According to the CDC, 47.6% of the US adult population has some level of gum disease.1 Looking at these statistics, we have a lot of work to do to conquer this disease.
Treating gingivitis will boost your hygiene department's profitability and help hygienists STOP solely cleaning teeth! Treating gingivitis lets us share a very important message: "A healthy mouth leads to a longer, healthier life."
WHAT ROLE DOES THE DENTAL PROFESSIONAL HAVE?
If we see our primary care provider and they find a pre-cancerous lesion, do they inform us or not? Do they withhold that information, feeling concerned that our insurance may not pay for a biopsy? Of course not! We have a legal and ethical obligation to complete exactly what our patients need.
Prevention Costs Less Than Treating Disease.
All dental professionals are in the business of helping patients live a longer and healthier life. Our primary business is not dictated by what insurance companies will pay. Insurance companies don't treat patients. We do.
Who is CODE D4346 GINGIVITIS TREATMENT not INTENDED FOR?
Important to note: gingivitis means no radiographic bone loss.
D4346 GINGIVITIS TREATMENT is intended for treating generalized moderate to severe gingival inflammation without bone loss. The gingivitis code is not used when your patient is overdue for their hygiene appointment. The gingivitis code is not used when your patient has heavy supra-gingival calculus, slight inflammation, and radiographic bone loss. The gingivitis code is not used when your patient needs non-surgical periodontal therapy (SRP).
Treating your gingivitis patient takes time. Plan enough time for the appointment to cover all services and tasks you think you need to complete in a hygiene appointment. Do not rush the appointment when patients arrive late. See the following graphic for a guideline on gingivitis appointment time management. Your goal is not "cleaning teeth" but we are in the business of dentistry to create a healthy body and this creates a longer life.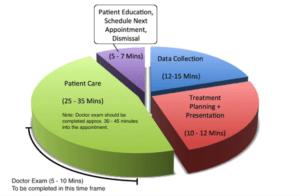 Diagram A. Time Management Formula
WHAT IS THE PROPER TREATMENT FOR A GINGIVITIS PATIENT USING CODE D4346?
Always begin with an updated medical history review and a comprehensive periodontal examination (CPE).
What does the CPE include?2
Review of Medical History/Blood Pressure Screening/Medications Update

Current Radiographs

Plaque/Calculus Levels

Full Mouth, Six-Point Measurements

Recession

Bleeding On Probing

Furcation

Mobility

Mucogingival Involvement

Occlusion

Caries Assessment
Taking intra-oral images of what you see during the visual exam is extremely helpful. Images will enhance your patient's ability to "Own Their Disease."
This next step is crucial for your patient to Own Their Disease. Sit your patient upright in the dental chair, sitting knee-to-knee and eye-to-eye. Review the images you took while guiding your patient to see exactly what you see. Let them see what is happening in their mouth as you educate them.
WHAT IS THE PURPOSE OF TREATING GINGIVITIS (D4346)?
Code D4346 helps your patient understand their mouth is connected to their body and overall health. Now is your time to talk about oral inflammation and how it can lead to other health issues such as heart attack, stroke, diabetes, kidney disease, Alzheimer's, etc.3
When treating any disease in your patient's mouth, your overall message is this: A healthy mouth leads to a longer, healthier life.
Simply cleaning teeth is no longer your goal!
WHAT DOES A D4346 VISIT LOOK LIKE?
Use the following as a guide for a D4346 visit:
During this visit your main concern is NOT getting the patient's teeth sparkly clean!
Consider the use of a soft-tissue diode laser to perform Laser Bacterial Reduction (LBR).

Use ultrasonics over/in the entire mouth.

Hand-scale (remove the supra) and polish.

Reinforce the importance of routine hygiene care appointments.

Provide post-op and home care instructions, along with oral-hygiene care education.

Schedule your patient for a re-evaluation in 4-6 weeks (in most cases, this will be a prophylaxis appointment).
Your patient may not improve their gingivitis condition in 4-6 weeks. If this is the case, you will re-treat for gingivitis. If your patient's gingivitis does not improve within 4-6 weeks strongly suggest your patient visit their primary care physician to talk about scheduling a blood panel to rule out systemic disease. It is not uncommon, with persistent gingivitis, for the patient's blood tests to identify diabetes and other systemic diseases.
Fact: Diabetes usually goes undiagnosed for at least seven years.
Until the inflammation and active disease are halted, your patient will return for the above services every 4-6 weeks.
Remember, your goal is to support your patient with a healthy body and longer life. Active disease will always have an endpoint before you move them to longer maintenance intervals. Unresolved gingivitis patients may need a referral to a specialist and more frequent intervals for hygiene appointments.
HOW CAN YOU GET D4346 REIMBURSED BY THE INSURANCE COMPANY?
If you take the time to ensure your clinical notes include all that the CPE showed, the time you took for patient education, and any treatment performed, you can easily copy the notes into the insurance narrative. Always bill exactly what services you completed.
Send the insurance company your CPE findings and a narrative describing the patient's current gingival condition. In the narrative, write generalized moderate-severe inflammation. Communicate with the patient's insurance that you have up-to-date x-rays, FMX, or Bitewing x-rays. You must show an exam (D140, D150, or D120) was completed with a diagnosis.
To learn about treating the gingivitis patient, and earn Continuing Education Credits, follow this link: http://bit.ly/3l0yxkO
References.
Eke P, Thornton-Evans G, Wei L, Borgnakke W, Dye B, Genco R. Periodontitis in US adults: National Health and Nutrition Examination Survey 2009-2014. JADA. 2018;149(7):576-586.
Comprehensive Periodontal Exam (CPE)

https://bit.ly/CPEAPPLINK

(Accessed January 31, 2023).
Alzheimer's Disease Related to Periodontal Disease.

bit.ly/3jm4zre

.

(Accessed January 31, 2023).
ABOUT THE AUTHOR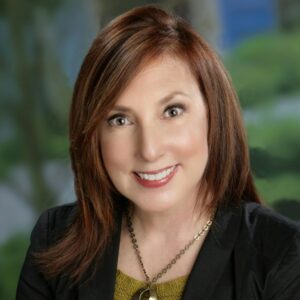 Debbie Seidel Bittke RDH, BS is the founder and CEO of Dental Practice Solutions, a dental coaching business focused on optimizing the hygiene department. Debbie created Celebrity Smiles Club, a patient retention – rewards system to keep patients on your schedule and grow New Patient numbers.
Debbie can be reached at: debbie@dentalpracticesolutions.com or at her website: www.dentalpracitcesolutions.com. You can also call: 888-816-1511.